Our Products are Commonly Used In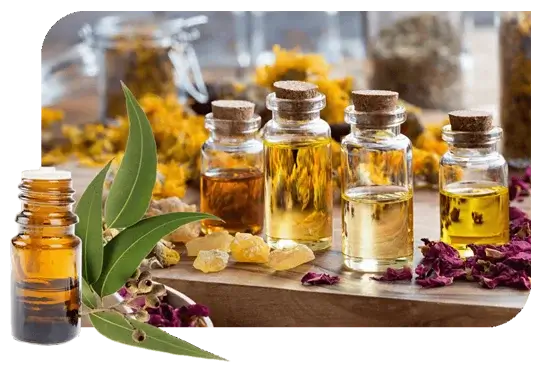 Arora Aromatics Pvt. Ltd.
Menthol Crystals Manufacturers
Nature brings therapeutic solutions for Humans.
We wish to share a small story with you about how our findings started in early 19th century in a small village ; a small boy and his little sister were suffering from severe cold and cough. Doctors were struggling to find solution of this ailment. Mother of two boiled leaves of a plant in a small and dark room. A special smell and steam filled in the room where mother and two kids slept. Next morning when they all woke up, they were fresh and well, surprisingly the cold vanished and both the kids were cured absolutely.

We bring this power of nature closer to you, directly from the Indian basket of Mentha Arvensis Oil, Menthol Crystals, Mentha Piperita Oil, Spearmint Oil, Basil Oil and Several other Indian Essential Oils.
Since 1976, Arora Aromatics has been at the forefront of the aromatic industry, crafting exceptional products that have earned us the reputation of being one of India's top-notch manufacturers, suppliers, and exporters. On 1st April 2013, we achieved another milestone as Arora Aromatics Private Limited, solidifying our commitment to excellence.
Our Commitment to Quality and Compliance
At Arora Aromatics, we take immense pride in our unwavering commitment to quality, safety, and compliance. Our dedication to meeting international standards is evident through our ISO 22000:2005, ISO 9001:2008, HACCP, GMP certifications for Food and Pharma, and Kosher Certification. Additionally, as a REACH Ready Company, we ensure that our products meet the stringent regulatory requirements, allowing us to serve a global clientele with confidence.
Pioneering Exports as a Star Export House
As a government-approved Star Export House, we have extended our aromatic expertise to international markets across the globe. Our premium products have reached discerning clients in UAE, Dubai, Abu Dhabi, Sharjah, Indonesia, Vietnam, Philippines, Russia, New York, New Hampshire, America, Iraq, Kazakhstan, Macau, Kuwait, London, Boston, Mansfield, Mexico, Jamaica, Guatemala, Costa Rica, Colombia, Brazil, Argentina, Peru, Chile, Germany, Australia, Thailand, Hong Kong, Senegal, Nigeria, Ghana, South Africa, and Tanzania.
Extensive and Diverse Product Range
Our vast product range includes an array of natural isolates and essential oils, each meticulously crafted to meet the diverse needs of our customers. From Alpha Pinene to Vetiverol, and everything in between, we offer products such as Citral Ex Lemongrass, Natural Patchouli Oil, Rose Indian Oil, and Tea Tree Oil, among many others.
Natural Mint Products and Menthol Crystals
We are recognized as a market leader in the production of natural mint products, including Liquid Mint Terpene, Menthol Crystals, Menthol Powder, and Molten Menthol. These products find applications in various industries, ranging from pharmaceuticals to food and beverages.
Aromatic Specialties and Chemicals
Arora Aromatics takes pride in offering an extensive range of aromatic specialties and chemicals. Our portfolio includes L-Carvone, D-Limonene, and Thymol Sugar, alongside Menthone blends in various ratios, catering to different preferences.
Meeting Customer Needs with Tailored Solutions
Our success lies in understanding and fulfilling our customers' specific requirements. Whether you are a manufacturer seeking high-quality aromatic ingredients or a supplier looking for reliable partners, we offer tailored solutions to meet your unique needs.
A Sustainable and Responsible Approach
As a responsible corporate citizen, we are committed to sustainable practices and ethical sourcing. We maintain a delicate balance between environmental responsibility and product excellence, ensuring that our clients receive the best while contributing to a better world.
Experience the Aromatic Essence with Arora Aromatics
At Arora Aromatics Private Limited, we invite you to experience the captivating world of aromatic solutions. With a rich heritage spanning decades, our commitment to quality, innovation, and customer satisfaction remains unwavering. Join us on this aromatic journey and discover the essence of nature in every drop.
Choose Arora Aromatics - Your Trusted Partner for Aromatic Excellence!
Our Portfolio

Natural Products

We specialize in crafting natural products that harness the power of nature to deliver exceptional quality and wellness. Our range includes carefully formulated offerings in the "Food & Pharma" sector, all designed to promote health and vitality through the inherent goodness of natural ingredients.
Natural Isolates

Discover the essence of nature with our premium natural isolates. Our meticulously extracted and purified compounds capture the purest aromatic and functional elements of plants, delivering unparalleled sensory experiences and versatile applications across various industries.
Natural Essential Oils

Explore our diverse collection of Natural Essential Oils. Crafted from the finest botanicals, our oils encapsulate nature's purity and therapeutic benefits. Elevate your well-being and products with our premium essential oil range.
Why Consider Us As The Best In Town?

Natural Inspiration
Our products are a testament to the beauty and power of nature, inspiring creativity and enhancing the experiences you create. Our products encapsulate the authentic essence of botanicals, delivering an unparalleled sensory experience.
Manufacturing Presence
The company's ambition extends to creating a robust manufacturing presence on a global scale. This underscores its determination to not only be recognized within India but also internationally.
Top Affordable Position
We seek to stand out among our peers as one of the top affordable players in the "Food & Pharma" sector. This goal indicates a focus on offering quality products at competitive prices.
Ethical Standards
We place significant importance on maintaining the highest levels of ethical standards. This commitment signifies a dedication to conducting business in a responsible and principled manner.
Legal Compliance
Adherence to the laws and regulations of the land is a fundamental principle for the company. This highlights its intention to operate within the framework of legal requirements and to engage in responsible business practices.
Custom Fragrances
We offer a wide range of customizable fragrances, enabling you to create unique and captivating scents for your products. Experience the art of customization with our bespoke fragrances.
Natural Specialities

Introducing our array of offered Natural Specialities. These carefully curated selections encompass rare botanical treasures and exclusive formulations, adding a touch of unparalleled distinction to your products. Elevate your creations with the essence of nature's finest.
Our Commitment to Quality and Excellence
We take immense pride in our certifications, a testament to our unwavering dedication to quality, safety, and industry best practices. Our pursuit of excellence has led us to achieve and maintain a range of esteemed certifications, affirming our position as a trusted and reliable partner.
ISO 22000:2005 and ISO 9001:2008: We are proud holders of ISO 22000:2005 and ISO 9001:2008 certifications, reflective of our commitment to food safety management systems and quality management systems, respectively.
HACCP (Hazard Analysis Critical Control Point): Our HACCP certification exemplifies our focus on food safety and risk management. It is a testament to our proactive measures in identifying, evaluating, and controlling potential hazards in our processes.
• GMP (Good Manufacturing Practices): Our GMP certification highlights our dedication to maintaining a clean, organized, and well-documented manufacturing environment.
Do you need assistance while ordering our products.
Contact our customer care team to better assist you for your needs
Get In Touch

Benefits of Natural Essential Oil
Natural essential oils have been used for centuries for their various therapeutic and aromatic benefits. Here are some of the potential benefits of using natural essential oils:
Natural essential oils can promote relaxation and emotional well-being through aromatherapy.
Some essential oils possess antibacterial and antiviral properties that can support the immune system.
Certain oils offer pain relief and can be used for massage or headache relief.
Essential oils can soothe skin, aid in skincare, and promote healing.
Aromatherapy with specific oils can aid sleep and reduce insomnia.
 Digestive discomfort can be eased with the use of certain essential oils.
Our Certifications & Accreditations